As a busy full time lecturer, PhD student and mother, Shubashni Ramrekha uses the Library's Shut up and write sessions to carve out time for her research.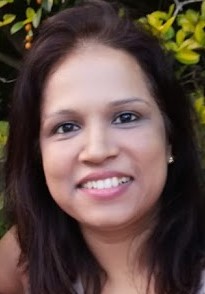 Originally from South Africa, Shubashni now lives in Mauritius with her husband and two kids, and works as a lecturer in management at the Curtin Mauritius campus. She is currently working on her PhD, titled Exploring the transition to senior leadership for women: A comparative study of female senior leaders from South Africa and Mauritius.
"I wanted to explore gender equality and how women broke through the glass ceiling to reach senior leadership positions in South Africa and Mauritius," she said.
"The nature of work is changing. The need for career counselling aimed at developing young adults' career flexibility and agility is of paramount importance."
Writing her thesis was a challenge amid the upheaval of COVID-19 lockdowns. The Shut up and write sessions helped her set time aside for her research work.
"It was difficult to find time for my research, between changes at work like switching from face-to-face teaching to online teaching and support, home-schooling my kids and coping with the lockdown," she said.
"The virtual Shut up and write sessions are amazing. The sessions forced me to set writing objectives each week and focus my attention on the thesis. I have participated in the sessions throughout the COVID-19 confinement and this helped me stay connected with the research."
Our Shut Up and Write sessions are focused writing sessions for research students. Students are encouraged to write intensively for short periods and then take a break with their fellow writers.
Dr Michael Seats facilitates the sessions and says he enjoys speaking with students about their research successes and challenges. He agrees that COVID-19 restrictions can be challenging for students, but the changes as a result of these can provide new opportunities.
"An unexpected benefit of Shut up and write sessions moving online is that students around the world like Shubashni can join in and have the space to write," he said.
"Though separated physically, there's still the same comradery between students undertaking their PhD. I think this is really important in what can be a rather solitary experience."
Curtin research students can join the next Shut up and write session, contact Library Help for more information.