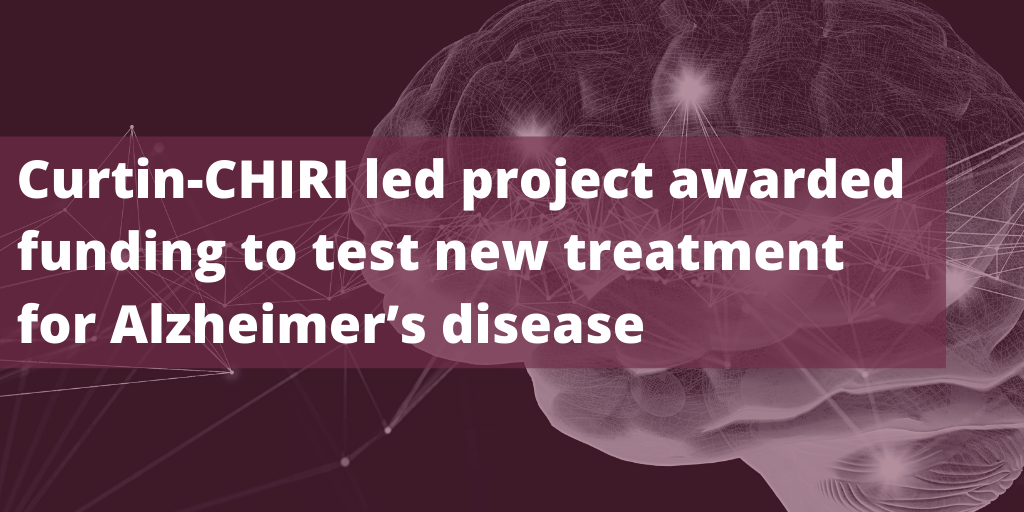 A research collaboration led by Curtin Health Innovation Research Institute (CHIRI) Director Professor John Mamo will get to trial a new treatment for the most common form of Alzheimer's disease with the announcement of $1.72 million in Federal Government funding to Curtin University.
The multi-disciplinary team has identified a novel drug, that can supress the production and leakage of a small molecule secreted into blood that inflames blood vessels of the brain and triggers Alzheimer's disease.
With funding announced by the Minister for Health, the Honourable Greg Hunt, in the latest round of Medical Research Future Fund (MRFF) grants, the team will test the drug in humans with the disease.
A $150,000 contribution was provided by MSWA in 2019 to help develop the clinical trial concept, which will now be fully supported through the MRFF-Neurological grant.
The team will also study what regulates, damages or protects brain capillaries, hoping the results will show improved cognitive performance and brain function in patients with late onset Alzheimer's disease.
CHIRI is a Curtin-based research institute dedicated to finding new preventions and treatments for a range of age-associated diseases, including neurological disorders. The collaboration includes seven researchers from CHIRI and Curtin University's School of Public Health and School of Pharmacy and Biomedical Sciences.
Chief investigators include Associate Professor Ryu Takechi and John Curtin Distinguished Professor Christopher Reid from Curtin-CHIRI, Professor Leon Flicker and Professor Gerald Watts (Royal Perth Hospital (RPH)/UWA), Professor Roger Clarnette (UWA, Australian Alzheimer's Research Foundation (AARF), Professor Michael Bynevelt and Associate Professor Roslyn Francis (Sir Charles Gairdner Hospital/UWA), Associate Professor Nicola Lautenschlager (University of Melbourne), Professor Carolyn Orr (RPH), and Dr Paula Mather (AARF).
Associate Investigators include Curtin-CHIRI's Dr Virginie Lam, Professor Jonathan Foster (WA Department of Health), Dr Hani Al-Salami and Dr Mauro Vaccarezza, as well as Professor Poh Loh (UWA) and Professor Suzanne Robinson, Emeritus Professor Satvinder Dhaliwal and Mr Ben Horgan (Curtin University).
You can read more about funding for the research in the Curtin University and Department of Health media releases.