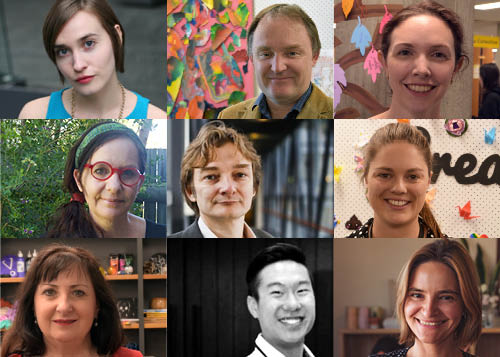 Our maker community is just as important as our new larger venue. To commemorate the launch of the new Makerspace we asked prominent members of our maker community why the Makerspace is important to them:
"With the new Makerspace, there is plenty of opportunity for even bigger and bolder projects in the virtual reality space. A chance for making creative things, therapeutic things, learning skills and developing both art work and practical applications."
Erik Champion – UNESCO Professorial Chair of Cultural Heritage & Visualisation, Faculty of Humanities
"The Makerspace is a great place for creating connections with others. It's a space to relax and a place to boost creativity, whether it is by playing board games, learning about 3D printing or knitting."
Silvia Lozeva – Strategy & Reporting Officer and coordinator of GO Learn!
"The Makerspace provides a much needed space to foster a sense of belonging and collaborative peer learning for our 800 mentors and 12,000 mentees they support. It helps us develop the mentoring community; the Makerspace is an exciting area where mentors can meet with their mentees and engage in fun, collaborative activities."
Roselynn Lang – Manager, Peer Learning and Support and coordinator of the New to Curtin Mentor Program
"I use the Makerspace as part of my lectures and creative workshops. It is particularly well suited for design thinking sessions, due to the atmosphere of the space and the equipment available."
Artur Lugmayr – Associate Professor, Faculty of Humanities
"My work with Curtin AHEAD in Schools brings groups of school students to the campus to learn about university life. The Makerspace has provided opportunities for students to take part in a university experience and to have access to materials and technologies they might have at school. The workshops have been well received by both school staff and students."
Kate Bird – Learning Experience Coordinator
"The Makerspace as a larger venue is fantastic, as there is lots of space for crafting, making and programming; which helps bring people in to take part in our VR and coding activities."
Wai Wan – Australian Virtual Reality Network
"I believe the Makerspace plays an important role in lifelong learning by developing information and digital fluency and other important capabilities, such as problem solving and creative/critical thinking in staff and students. It can support both curricula and non-cirricula activities, including research, and contributes to the wellbeing of the Curtin community."
Karen Miller – Sessional Academic, Faculty of Humanities
"Having a team that's invested in the wellbeing of the campus and its community has made Curtin a more exciting place to be. The Makerspace is fundamental in this work, in its ability to bring people together."
Rachelle Jones – Place Activation Coordinator
Read more about the Makerspace on our website or drop in from 10am – 2pm Monday – Friday during semester (building 105, level 5).
Enjoy reading Library news? Sign up to our Library newsletter.