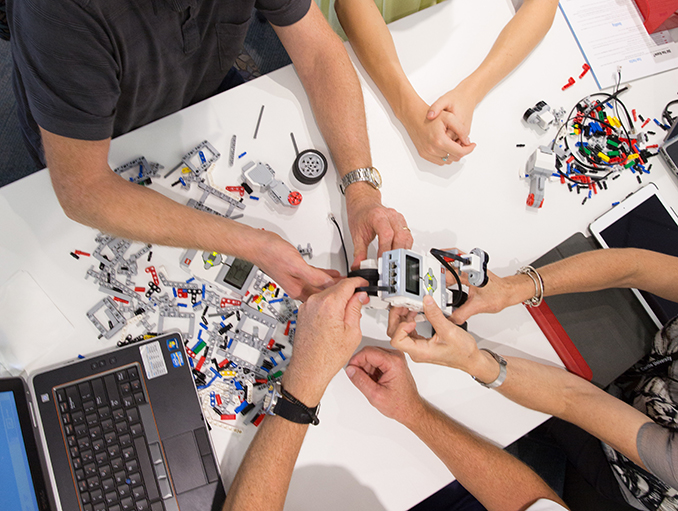 Curtin Library Makerspace is an exciting space that brings together innovation, design and fabrication for all members of the Curtin community and beyond. It has recently grown in importance and is now part of the University Learning and Student Experience Enabling Plan.
Our goals are to:
evoke a sense of community among the makers within, or connected to Curtin;
foster creative thought, skill building & sharing;
encourage cross-disciplinary interaction, inquiry, learning, and collaboration;
make our specialised materials & equipment obtainable to users;
facilitate project work and research between students and staff; and
have the makerspace available for academics to be able to incorporate 'making' and/or use of our equipment into their curriculum.
To continue to achieve our aims, the Makerspace physical hub has been relocated to a much larger space on Robertson Library level 5. Drop in Monday to Friday, 10am – 2pm during semester to check out the changes we've made.
You can also join us in celebrating National Science Week 2017 with 'Future Earth Makers at the Library'; a week long Makerspace program. Hands-on activities and workshops will blend the boundaries of science and creativity, focusing on the themes of sustainability and the environment.
Day
Time
Event
Monday 14 August
10:00am – 11:00am, Curtin Library Makerspace
Make old paper new – Explore paper recycling and make old paper new again.
1:00pm – 2:30pm, Curtin Library Makerspace
DIY solar-powered car – Make a solar-powered car made with a simple circuit & other materials.
Tuesday 15 August
10:00am – 11:30am, Curtin Library Makerspace
Build your own Wind Turbine – Discover how a windmill works and make your own mini version.
12:00pm – 2:00pm, Lower Henderson
Decorate your own solar light – Use different methods to embellish your own garden solar lightbulb.
Wednesday 16 August
10:00am – 11:00am, Curtin Library Makerspace
Plastic bag crafts – Repurpose everyday plastic shopping bags into something crafty.
12:00pm – 1.30pm, Curtin Library Makerspace
Energy Awareness Design Challenge – Team up with others to make something that conserves something.
Thursday 17 August
11:00am – 2:00pm, Lower Henderson
Insect Hotel – Create a habitat for the insects in your garden.
2:30pm – 4:30pm, John Curtin Gallery
Coffee Pod Creations – Produce a work of art with recycled coffee pods.
Friday 18 August
10:00am – 11:30am, Curtin Library Makerspace
Visit the new Makerspace – Celebrate the end of National Science Week and drop in for morning tea.
5:00pm – 8:30pm, Curtin Library Makerspace
SCINEMA – Come to our screening of the SCINEMA International Film Festival.