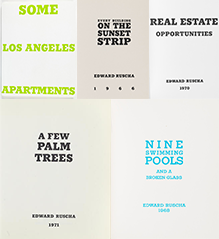 Love in Bright Landscapes opening at PICA this month considers Perth and Los Angeles as comparative case studies, bringing together artworks made in reference to the two west coast cities.
The exhibition includes five artist's books by Ed Ruscha on loan from the Curtin Library:
Some Los Angeles Apartments
Every Building On The Sunset Strip
Real Estate Opportunities
A Few Palm Trees
Nine Swimming Pools And A Broken Glass
Ed Ruscha is a Los Angeles artist working in a variety of mediums. His self-published series of photographic books produced from 1962 and into the 1970s are now sought by collectors. Curtin holds eight of these with Special Collections at the JCPML.
Since publication Ruscha's work has been referenced by numerous artists and creatives. One of the books on loan is Every building on Sunset strip, a 7.5m accordion fold of street view photography taken on both sides of Sunset Boulevard in 1966. An archive of these images acquired by the Getty Museum has been developed into an online interactive exhibit 12 Sunsets: Exploring Ed Ruscha's Archive.
Love in Bright Landscapes is at PICA from Friday 30 July until Sunday 10 October.