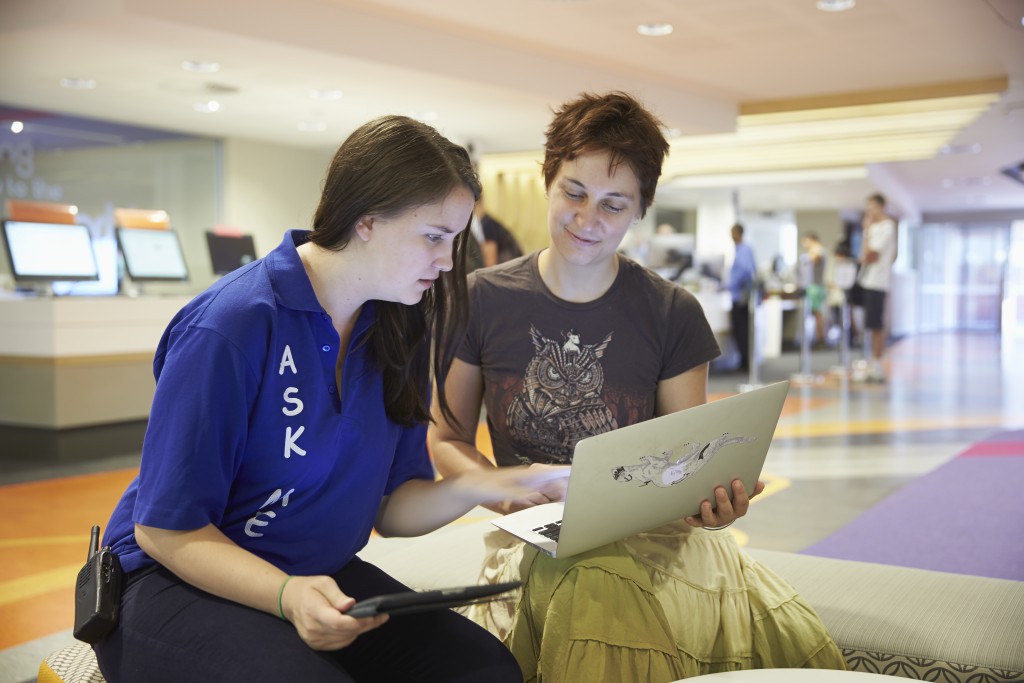 Robertson Library employs forty students to shelve, assist clients, enforce library rules, clean and tidy specific areas, troubleshoot problems with library equipment and provide administrative and collections support. Employing students results in positive outcomes for the library, for clients, and for the library student assistants themselves.
As they patrol and work on all library floors, library student assistants are ideally placed to give feedback about building maintenance and recurring problems to supervisors during day shifts. At night, student assistants patrol the library regularly and report on attendance levels and incidents, with any immediate concerns followed up by security. From 8pm to 7am, student assistants are largely the eyes, ears and voice of the library, and are in part responsible for the success of 24/7 opening hours.
Clients may feel more comfortable dealing with a fellow student who better understands the student viewpoint and tools than another staff member. Many library student assistants are technologically orientated and able to assist clients quickly and effectively on a range of electronic devices. Student assistants often have a fresh perspective and can offer valid suggestions for improving client services.
Benefits to the library student assistant include flexible employment that works around their study schedule, receiving transferable training and practical experience in using technology, customer service and best use of resources and the opportunity to work on special projects.
The interaction between library staff, clients and library student assistants at the Robertson Library is both mutually beneficial and constantly evolving. Hundreds of students apply for the sought-after positions every year, and their work is of great value to the library, clients and students themselves.
Enjoy reading Library news? Sign up to our Library newsletter.