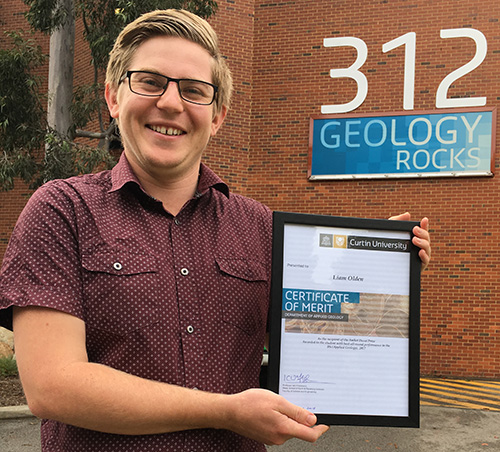 UniPASS Peer Learning Facilitator and Geology student Liam Olden was recently awarded the Aniket Desai Prize for his all-round academic, professional and leadership skills at Curtin University.
UniPASS is a voluntary academic assistance program that sits within Curtin University Library. Sessions are run by Peer Learning Facilitators like Liam, who guide students in revising unit content each week through activities and peer learning. UniPASS helps with student retention at Curtin University by targeting hard to pass core units across faculties, with attendees achieving better grades and forming close bonds with their fellow students. Liam's background as a regional student from Tambellup, Western Australia, gives Liam a unique insight into the challenges of adjusting to university life and study.
Liam has been part of the UniPASS team for the past five semesters, and is currently facilitating Fundamentals of Geology unit sessions and an online learning community. In semester 1 2017, his sessions attracted 38% of the Fundamentals of Geology cohort with attendees achieving an average 19% grade increase compared to non-attendees.
The Aniket Desai Prize is awarded yearly to a Geology student who contributes to the Curtin community as well as achieving high academic scores, and this year Liam's dedication to many facets of the student experience was recognised. In addition to his honours studies and UniPASS work, Liam is also the Curtin Geology Student Club president and the Curtin student representative for the Geological Society of Australia, and has been regularly involved as a New to Curtin mentor.
Having award-winning students like Liam as Library staff members is extremely positive and we know his success will continue far beyond his time at the Library.
Enjoy reading Library news? Sign up to our Library newsletter.