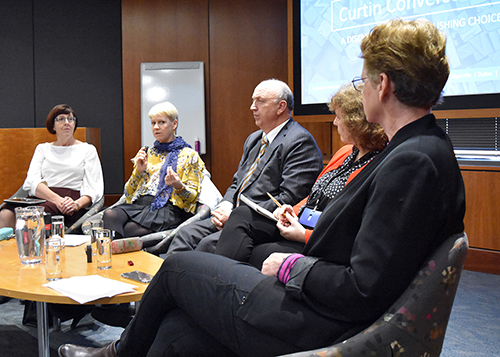 An important part of the Library's role within the University is to keep researchers informed on topics and trends in academia. To connect the University community with these ideas, the Library created the Curtin Conversations panel discussion series.
Experts from across the University are invited to speak on a panel, with discussion centred on a 'hot topic' – such as open access publication, emerging technologies or academic engagement with industry. The event is casual and collegial, with audience members encouraged to participate and ask questions. The panel is followed by a networking morning tea, which allows attendees to mingle and establish cross-faculty connections. In addition, the panel is livestreamed to allow colleagues who cannot attend to also participate in the conversation.
"We've found the panel discussion format is ideal for bringing out complexities, different viewpoints and contrasting opinions on these trends, which is a great way to introduce attendees to an idea," said organising committee member and Law Faculty Librarian Jaya Ralph. "Researchers also appreciate the opportunity to network outside their faculty in a neutral space."
The first Curtin Conversations event held in June this year addressed academic publishing choices; for example, where a researcher may choose to publish and how this decision can impact their career. The event generated strong attendance and good feedback:
"Many folks found Curtin Conversations useful, we need to help researchers with writing and publishing strategies; particularly within the changing context of academia." – Professor Fran Ackermann, Faculty of Business and Law
"This is a fantastic initiative which has been well received in our school" Professor Ba Tuong Vo, Faculty of Science and Engineering
The upcoming Curtin Conversations event in November will focus on measuring engagement with the community. It will showcase academics who actively provide media comment and use social media to promote their research. In addition to the panel, there will be short presentations on using Altmetric to measure engagement and the support offered to Curtin researchers when making media comment.
By positioning the Library as a hub of learning on current academic trends through Curtin Conversations, we hope to continue to connect and provide service for our researchers.
To register for the next Curtin Conversations panel discussion, go to the event registration page.
Enjoy reading Library news? Sign up to our Library newsletter.