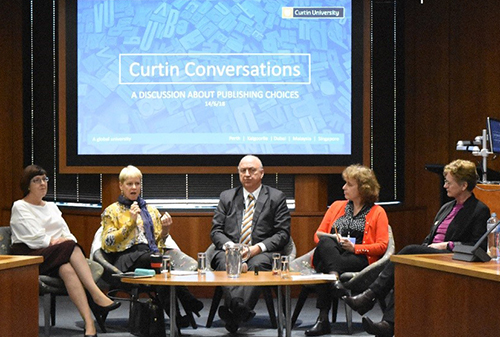 The Curtin University Library Faculty Librarian team were excited to hold their first Curtin Conversations event on Thursday 14th June 2018. The panel discussion addressed the factors influencing publishing choices and what these choices mean for researchers and for Curtin. The views of each Faculty were represented by our expert panel:
Professor Garry Allison, Associate DVC, Research Excellence
Professor Kate Trinajstic, Dean of Research, Faculty of Science and Engineering
Professor Fran Ackermann, School of Management, Faculty of Business and Law
Professor Dora Marinova, Director of the Curtin University Sustainability Policy (CUSP) Institute
A lively discussion ensued tackling questions such as what makes a quality publication in your discipline? How does choosing quality journals sit with industry demand driven research? Is there a place for lower impact / higher visibility journals? Is open access considered quality? How does publishing in social media relate to quality? How do you identify predatory journals?
The conversation cemented the fact that there are many factors which drive the choice on where a researcher may choose to publish and how this decision can impact their publishing record and career.
Curtin staff and students can access a recording of the event via Echo360.
This event was followed by a workshop on tools for finding quality journals to publish in. An online version of this workshop will be available in the near future.
We hope to host another event later in the year on another hot topic in academia.
Enjoy reading Library news? Sign up to our Library newsletter.