Over the Easter break maintenance will be conducted on the communications tower on top of Robertson Library. Works will start on Friday 14 April when the Library is closed, and will continue until Monday 17 April.
During this time, there will be no access to the Library via the south entrance*. Please enter via the east entrance instead.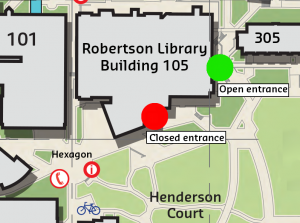 Thank you for your understanding while these important works are completed.
*Please note that the Library is closed over Good Friday (Friday 14 April), Easter Saturday and Easter Sunday, reopening on Easter Monday (Monday 17 April) at 9am.