2017 marks 50 years since the inauguration of the Western Australian Institute of Technology, which later became Curtin University. The Library is commemorating this important milestone alongside the rest of Curtin University with a number of events and projects.
Campus tours and historic photos
The Library forms part of the University's campus tours for former staff and alumni. Library staff have been delighted to show visitors around the many changes to Robertson Library over the building's 45 year lifespan. Some of these changes have been shared on the Library's Facebook and Twitter accounts, keep a lookout for weekly historical posts.
JCPML Anniversary Lecture
Recently, the Library hosted the 2017 John Curtin Prime Ministerial Library Anniversary Lecture, delivered by JCPML patron the Honourable Julia Gillard AC. See our article on the JCPML Anniversary Lecture for more information.
50 Objects for 50 Years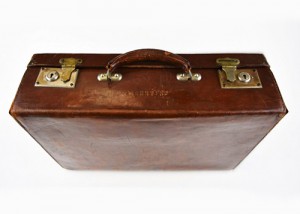 The 50 Objects for 50 Years website tells the stories of our Special Collection items, one week at a time. Many of the objects are housed securely and out of sight at the JCPML, and the website provides a fascinating insight into the Library's more unusual and rare items.
Afternoon tea reunion
An afternoon tea reunion event was held for former and current Library staff. It was an occasion for former staff to see changes in the Library, to share their memories and reconnect with the current staff. A video about former and current staff members' fond memories of the Library will be produced from the event.
Curtin University's 50 Years of Innovation celebrations have provided a welcome opportunity for the Library to reflect on its innovative past and future.
Enjoy reading Library news? Sign up to our Library newsletter.