The first group of European researchers with expertise in biochemical and nano-technological science are visiting Dr Hani Al-Salami's lab, in a collaborative project funded by the prestigious EU Horizon 2020 grant.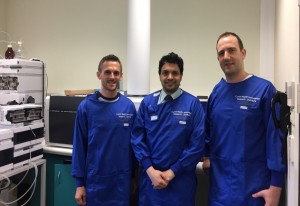 Dr Bojan Stanimirov (right) and Dr Nebojsa Pavlovic (left) are part of the EU-Australian consortium who secured an EU Horizon 2020 funding (2016; 4 years), which incorporates leading researchers from the EU (Serbia, Germany and France) and Australia (Curtin).
The EU Horizon fund supports the MEDLEM project, which incorporates chief investigators and experts in biotechnology and pharmaceutical sciences (Dr Hani Al-Salami), electro-microfluidic devices (Professor Goran Stojanovi), architectural design and physical characterisations of implantable devices (Dr Guilhem Velve), medical technology and commercialisation (Professor Lothar Heinrich), and organic synthesis and medicinal chemistry (Dr Cedric Poinsard).  The MEDLEM project aims to design implantable microfluidic biosensors for in-situ real-time pharmacodynamic monitoring using nano-technological methodologies to build nano-chip capable of delivering drugs and digitally measuring drug concentrations in plasma and tissues.  These implanted nano-chips export data, in real-time, into microfluidic electronic devices, using microelectronic signals through customised Wi-Fi network. Using in-house developed software, the data are streamlined using encrypted mathematical drug modelling equations, to construct drug concentration profiles, forming a continuous feedback input, which measures the amount of drug being released from the implants and body response to drug treatment.
The MEDLEM project has been greatly successful and following his first EU secondment, as a chief investigator, Dr Al-Salami was appointed in April 2017 as an honorary full professor of Biotechnology and Pharmaceutical Sciences, in Novi Sad (EU), and provided with customised lab space to accommodate Curtin researchers.  The researchers will carry out multiple EU secondments in various EU institutions, and will gain new skills in the design of microfluidic implantable devices and biotechnological applications.
The MEDLEM project has already produced valuable scientific output, and this is manifested by the latest publication in the European Journal of Drug Metabolism and Pharmacokinetics, which illustrates significant effects of drug-metabolising enzymes on physiological effects on drug uptake and metabolism.
Mikov M, Ðanic´M, Pavlovic´N, Stanimirov B, Golocˇorbin-Kon S, Stankov K, Al-Salami H. The Role of Drug Metabolites in the Inhibition of Cytochrome P450 Enzymes. European Journal of Drug Metabolism and Pharmacokinetics, 2017, DOI 10.1007/s13318-017-0417-y