Library staff teamed up with Curtin academic Dr. Pauline Joseph to supervise a Curtin HIVE (Hub for Immersive Visualisation and eResearch) summer intern project sponsored by the University Office of Research and Development. Aaron Kent, a second year Bachelor of Science (Computing), majoring in Software Engineering was assigned to our project.
The summer internship is an intensive 10-week program that provides students an opportunity to experiment with visualisation technologies and learn from the experts at the Curtin HIVE working on a practice-based research project.
Aaron analysed the Library's EZproxy log files, which is a rich dataset of logged authenticated use of the Library's collection of online resources (databases, e-journals, and e-books). The anonymized dataset spans from 2013 to 2017 and comprises about 30 million lines per month.
Aaron created two visualisation prototypes from the EZproxy dataset.
Global Visualisation of Curtin Research Activity uses a geographical map of the world as a platform to showcase from where each of the research requests are coming from, the time the request was made, and how large the file size of the request was. This interactive prototype allows query via a search interface, which then displays the results using a reverse waterfall model.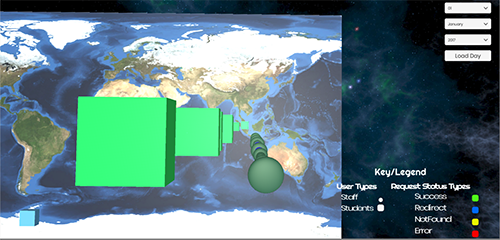 Database Usage Visualisation – showcases the usage of the various Library subscribed databases by staff and students daily over a month in April 2017. The three-dimensional bar graphs provide a 'city skyline' visualisation of the databases' usage.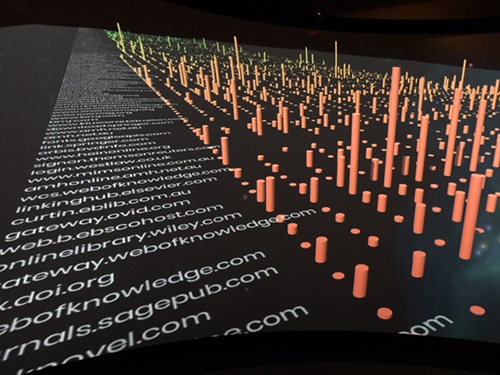 Enjoy reading Library news? Sign up to our Library newsletter.