UniPASS, the Library's peer learning program, has been tracking well this semester. While it is business as usual for most of the 28 units supported by the program, we have begun the challenge of establishing online UniPASS sessions using Blackboard Collaborate Ultra.
This semester marks the launch of the UniPASS online pilot, led by Project Officer Tracy Piper. Following the receipt of HEPPP funding to better support regional, rural and remote students, Tracy undertook PASS supervisor training at the Australasian PASS Centre at the University of Wollongong, as well as research into other online programs. In addition to Tracy, three current Peer Learning Facilitators (PLFs) took up the challenge to transfer the interactive, engaging revision activities present in face-to-face sessions to the online classroom environment.
Lauren Fleming, one of the PLFs, explained the reason behind her choice to facilitate online: "I wanted to get involved in online UniPASS because I could see firsthand in my face-to-face sessions just how much the students get out of the program, therefore I thought it only fair that online students should get the same opportunity! And I wanted to be a part of this change."
UniPASS Online is run through Blackboard Collaborate Ultra, with the video conferencing and applications proving successful in enabling students to engage with activities, all of which are used to promote student interaction and learning.
Responses from the current attendees have been positive, and all attendees have been extremely enthusiastic and engaged during sessions. This engagement is important, as many of the students are from rural areas or have caring responsibilities. One student in the UniPASS Facebook group stated that "… [it's] good to be able to have someone to actually talk to about what we are learning, especially being online only."
Additionally, our facilitators have also enjoyed the sessions, with all facilitators appreciating the dynamics created, the ability to focus on what individual students are struggling with, and the ability to build rapport.
Tracy is currently fine-tuning a presentation for the Australasian PASS and Peer Learning Conference in early October, following which she will complete a report on the pilot with recommendations of how to move forward. In the meantime, UniPASS staff are continually promoting the online sessions to both external and internal students, and hope to see a slight increase in attendance as exams loom closer.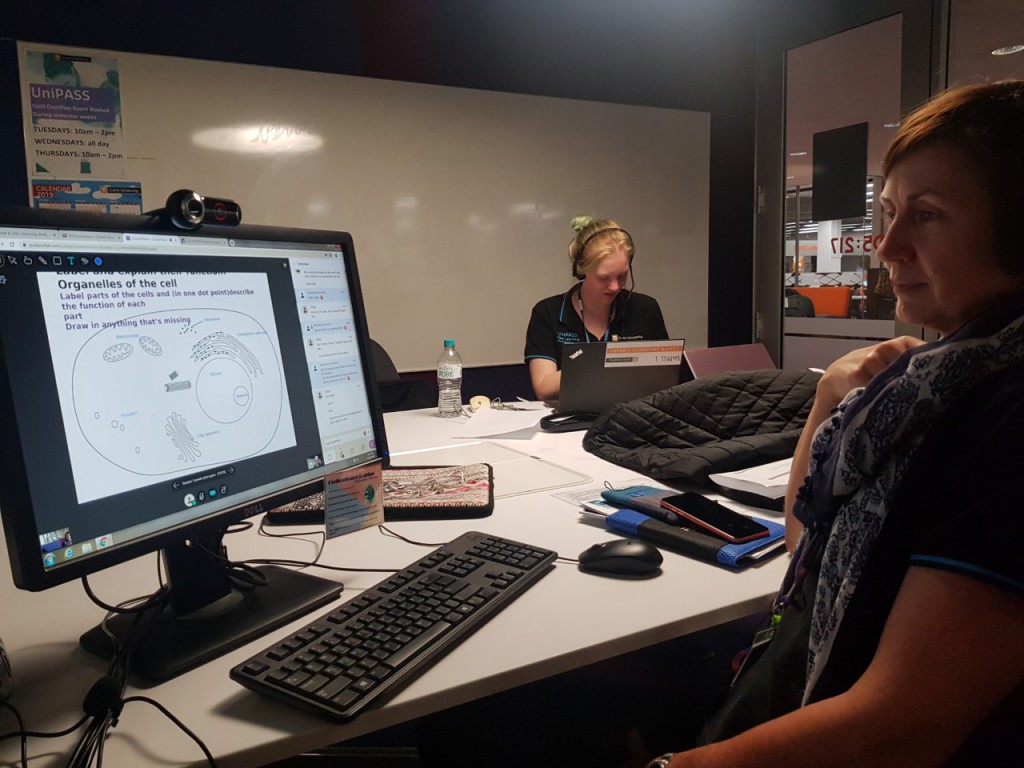 Lesh Paxman, Peer Learning Facilitator, runs the very first online Human Structure and Function session while Amanda Smith, Peer Learning Coordinator, looks on. Photo by Tracy Piper.
---
Enjoy reading Library news? Sign up to our Library newsletter.