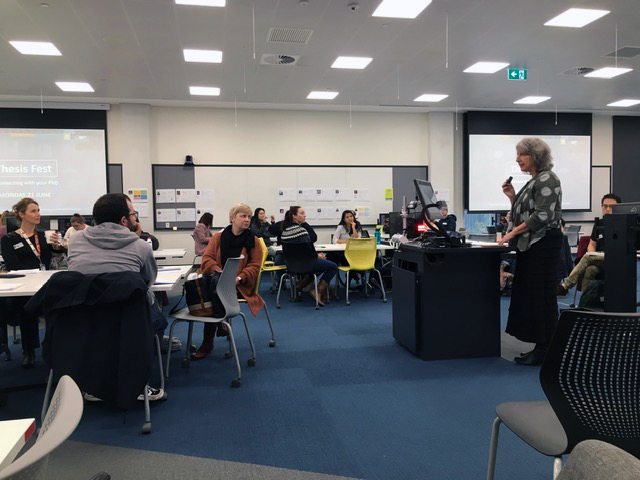 Being a PhD student is often referred to as being on a journey, and in many cases a very lonely journey. The Library works closely with Curtin University PhD and Masters by Research students (HDRs) to support them with the skills and resources they need to complete their thesis. However there are still students who struggle, with COVID adding another layer of complexity and challenge for many of them.
The idea of running a two-day support workshop for PhD students was pitched by the Faculty Librarian team for last year's Library Innovation Initiative and was judged the winning idea by Library staff. Using faculty contacts and suggestions from staff across the University, "Thesis Fest" was planned as a support event focusing not just on skills but also on wellness and mental health. It was successfully delivered over two days on June 21 and June 22, 2021 with approximately 65 HDR students attending in-person and 50 online. With exquisite timing – the event took place the week before WA had a snap lockdown.
The aim of Thesis Fest was to celebrate the HDR journey, motivate and inspire students, have fun, develop networks, meet other students, and learn from each other and some amazing speakers. Our keynote speaker Professor Inger Mewburn, also known as The Thesis Whisperer, beamed in from Canberra and shared her wisdom on academic writing in COVID times. Professor Julia Richardson reframed the HDR journey as a quest – complete with monsters to slay and a suitable reward at the finish.  We had Jack Geraghty from the Student Wellbeing Advisory Service showing us how to focus on the small steps to get to the bigger picture.  A courageous Professor Sharon Parker fronted the "Ask the Professor anything" session which sparked many questions and answers. We also welcomed inspirational presentation skills coach Peter Dhu who spoke about overcoming the fear of public speaking for milestone presentations. These were just to name a few of our diverse line-up of presenters!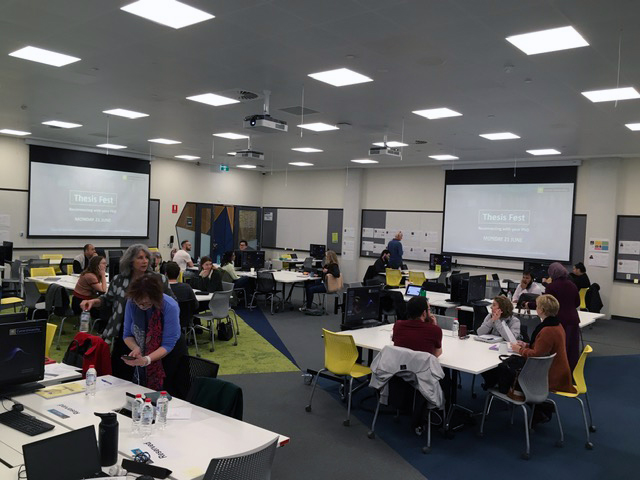 Students were encouraged to submit a poster about themselves and about their research prior to attending. The aim of our poster wall was to connect students with like-minded peers to help them establish or expand their networks.
To keep up the excitement on the day we offered daily door prizes with fierce competition for The Thesis Whisperer's books. One student tried to buy a copy of the book only to find it sold out.  She won a copy the next day!
Feedback from the event was overwhelmingly positive from students, staff and faculties, many of whom are keen to continue the support measures begun at Thesis Fest. The overall message we received from student feedback was that they felt reenergised and motivated to get back to their research and complete their PhD:
"Just want to say I'm so pleased to be here, I am astonished with the details, the student posters, meeting the professionals and your smiling faces.  I can say this is one of the best events I have ever attended at Curtin"
Written by Diana Blackwood, Jenny Copestake, Kitty Delaney, Linden Hall, Jaya Ralph and Vanessa Varis
Faculty Librarians
Janice Chan
Coordinator, Research Services
Petra Dumbell
Academic Skills Advisor
Enjoy reading Library news? Sign up to our newsletter.