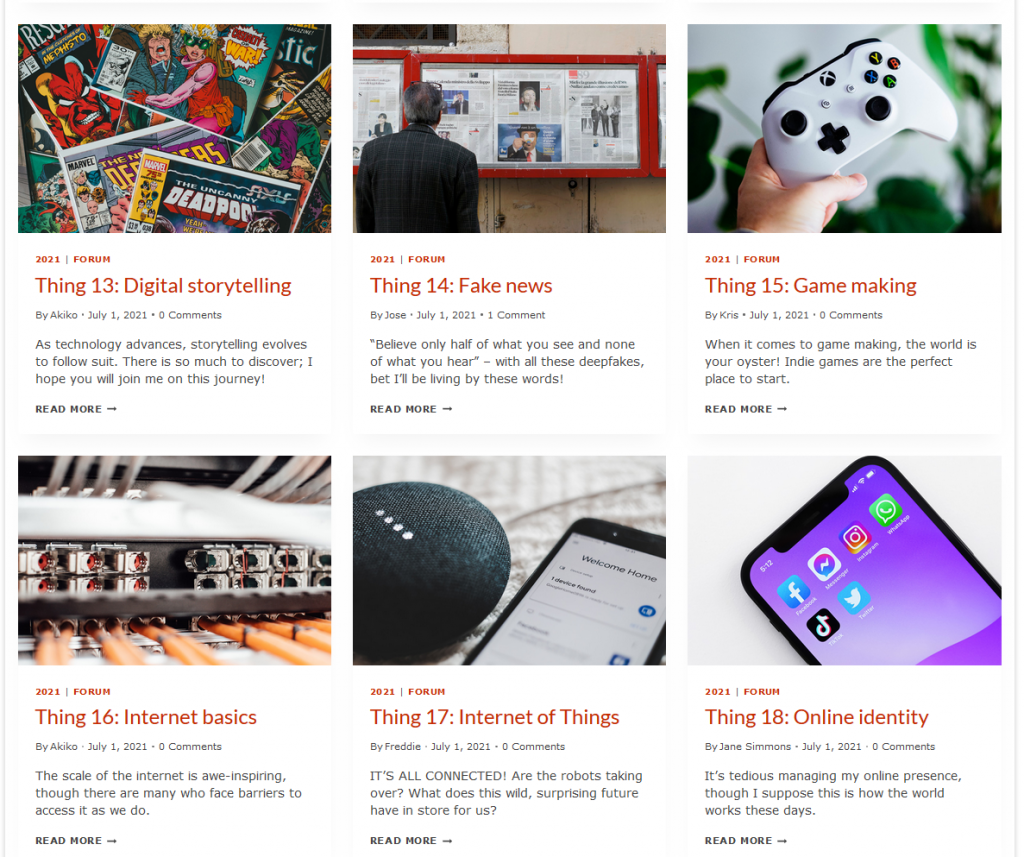 23 Things, the Library's digital dexterity program, has grown in leaps and bounds over the last 12 months. Evolving from a pilot program in 2020 to a recognised Curtin Extra program in 2021, the program prides itself on student-developed content, innovation, and continuous reflection and improvement.
23 Things is a fully online digital dexterity program created by students and is open to all to participate. The program covers 23 different modules or 'Things', designed to help students develop the digital capabilities to be successful in study, work and life. It consists of activity-based modules, workshops and creative digital challenges developed in H5P, on topics such as video editing, fake news, and data makeover. To date, over 1,400 people have registered for the program, including almost 800 in 2021.
As students make their way through the program, they complete reflections on each Thing. This prompts them to reflect on their knowledge of the topic, both existing and newly learned, and consider how this can be applied in their academic, professional and personal lives.
Through these reflections, the team has received a consistent stream of feedback, allowing the 23 Things program to undergo continuous review and iteration. We also take into account user engagement with program material and our team's own insights to improve the program's sustainability and quality. All feedback and suggestions are compiled and reviewed for implementation at the end of a semester period.
To date, our most significant and exciting upgrades include:
Transmedia storytelling through weekly reminder emails, using characters from our Certitude game to draw participants in and establish real-life scenarios related to each Thing.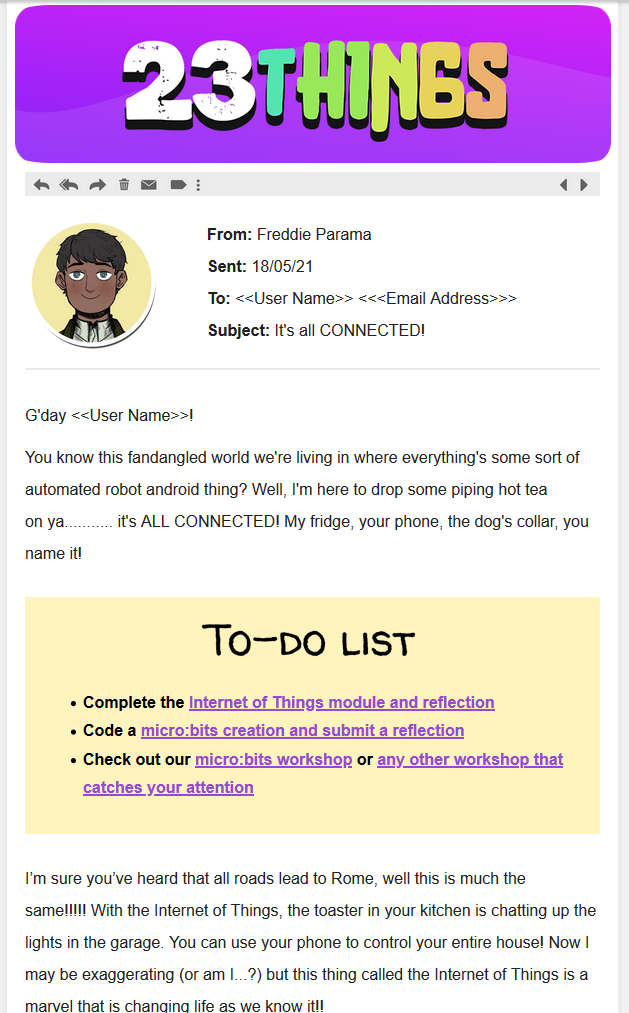 A community forum where participants can engage with the 23 Things community, discuss the topics, and share their challenge creations.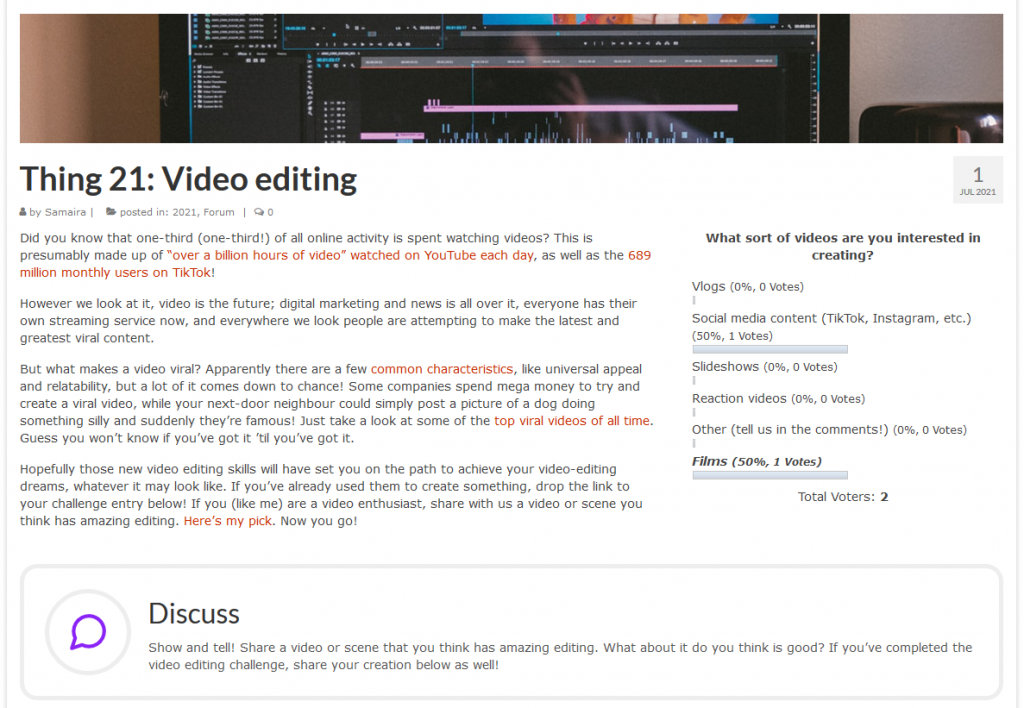 The grouping of Things into loose 'themes', so participants can focus on developing their skillsets with a particular goal in mind, such as online content creation, upskilling for the classroom, and more.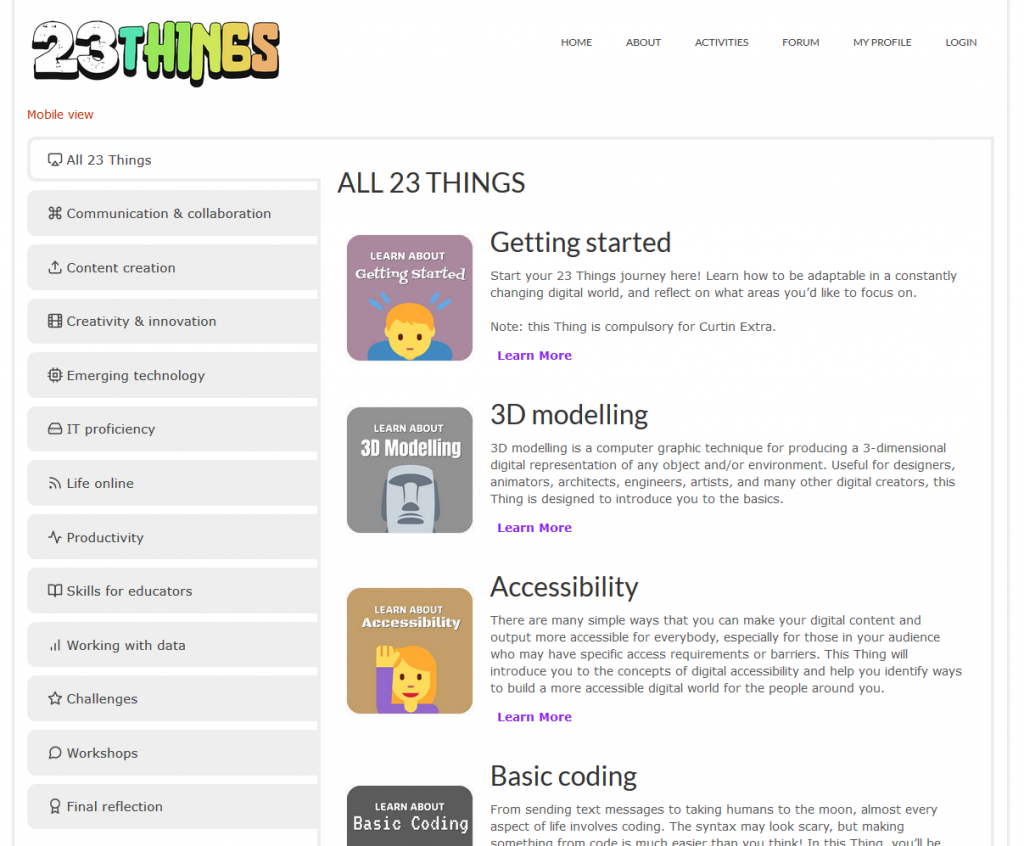 Gamification of the modules that awards badges upon the completion of a Thing, allowing participants to track their progress through the program and view their achievements.
We are also currently reviewing the range of Things we offer. There is scope to shift some of our existing Things into our suite of library and study skills support modules, which frees up space to develop new digital skills modules in the 23 Things program. The ability to do this allows the program to truly evolve with greater social and technological trends.
All content is licenced under a Creative Commons Attribution Licence for re-use and adaptation, and we include examples of freely available, open source software throughout the Things. The program is also highly scalable, with a view to promote the program in high schools. Further, it can also be easily adapted for delivery of other learning content such as assignment skills.
To find out more about the program or sign-up, visit the 23 Things website.
Written by Miah De Francesch
Learning Success Advisor
Drew Fordham
Project Officer
Enjoy reading Library news? Sign up to our newsletter.