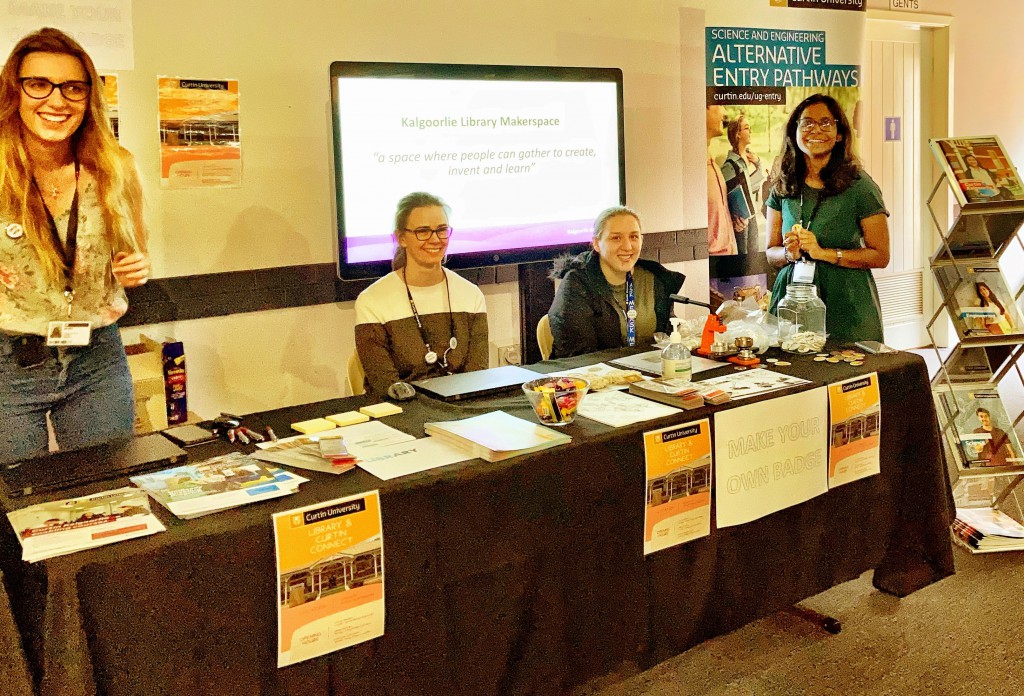 We're proud to have our Curtin Kalgoorlie campus and library, located 7 hours drive east of Perth. Teresa Bennett and Greta Vos are our trusty librarians supporting our Kalgoorlie students and staff. We spoke to them to find out some of the unique rewards and challenges of operating a regional university library.
Hi Teresa and Greta, could you please describe your roles? What does a day in the life of a Kalgoorlie librarian look like?
Teresa: My role is the Coordinator, Curtin Connect & Library, which means I spend time looking after both student services and the Library.
Generally my days start off quiet as the first class on campus is at 8:00am. I'll turn everything on in the building and log into the PCs.
Greta: Yes – we'll generally start together on the library enquiries desk together before the Library Student Assistants and Curtin Connect Advisors arrive.
Teresa: During the day I'll walk around the library to check on the students and make sure our COVID-19 rules in place are being adhered to by staff and students. Lots of things come up during the day, such as circulation issues and desk issues. We do lots of work supporting students via information literacy classes and one-on-one training. I am also on-call for local in-depth EndNote or database questions.
Greta: I'm on hand to assist students with their questions; usually regarding the catalogue and the different library services that we provide like printing, student card access, referencing and EndNote assistance. I also support WASM staff with these issues when required.
Teresa: We also regularly meet with both Perth staff and Kalgoorlie staff, this usually takes up a few hours of the day. The Library is a hive of activity in the afternoon and early evening.
Before leaving for the day I liaise with security with any issues they need to know as they are on campus until the library closes at midnight.
Going home doesn't take long – only four minutes, or one song on Triple J!
How does your previous work experience inform your work here at the Library?
Greta: I started at Kalgoorlie Library this year and this is my first job in a library. My previous experience was in administration and customer service roles where I interacted with a range of different people. These roles included supporting and assisting newly arrived refugees settling within Australia; working within in a university environment assisting both academics and PhD students; and finally in the logistics and transport industry liaising with mining companies and suppliers.
Teresa: Previously I worked at a public library, a special library at a mining company and an education district office resource centre.
The work experience at the mining company gave me a good grounding in mining terms, and the process of mining. I was responsible for standards, the library and the company report depository.
There were also lot of historical documents from mining on the Golden Mile held by the company. This gave me a headstart in the business of mining and mining engineering, which helps me support students on this campus studying mining and metallurgical engineering and related subjects.
Working at the education department gave me good experience in dealing with academics and school staff and the approaches to teaching and learning.
Are there any particular challenges and rewards of working at a regional campus you'd like to highlight?
Teresa: One of the rewards of working on a smaller campus is the breadth of tasks that staff here cover, everyone working across teams to help each other and help our clients.
Team building is also good on a regional campus. In many activities planned for students, staff are invited to participate which makes for better relationships between the Curtin Student Guild, students and staff.
Greta: One of the more rewarding aspects of working at a regional campus is the opportunity to better know the students. It makes it much easier to find out what they need. It also helps us adapt our resources and programs to help make their time at Curtin Kalgoorlie fulfilling and productive.
Another bonus is the abundance of parking and no parking fees!
Teresa: The challenges are always communication and keeping the communication lines open, both with library staff at the Perth campus and Faculty of Science and Engineering staff located at Kalgoorlie.
Greta: The more challenging aspect I forgot before moving here was that it takes forever for online shopping to arrive!
How does your team help the University achieve its goals?
Teresa: The library supports Curtin students and staff in their study, learning and teaching, which helps them to achieve their goals. By supporting students and staff, we are helping the University achieve its goals.
Greta: Agreed! Our aim at Kalgoorlie is to develop new ways to provide resources and services to both staff and students. We also work closely with the Perth campus to support online services and workshops, continually looking at ways to meet the needs of our students – particularly in the quickly changing online environment due to COVID.
What are your work goals for the year? What big projects are coming up?
Greta: One of our big projects for the year is establishing and promoting our Makerspace that caters specifically to the creative and learning needs of our Curtin Kalgoorlie students. It also allows students to spend time de-stressing and chatting with other students or staff.
Teresa: My work goals this year consisted of employing and training a new Librarian – thanks Greta! – and creating a more cohesive team, with the Curtin Connect Staff who share our space in the Kalgoorlie Library. So far it's going well!
Edited by Sara Culverhouse
Communications Officer
Enjoy reading Library news? Sign up to our newsletter.