This summer the JCPML had the privilege of hosting a Curtin HIVE summer intern, Humanities student Benjamin McConnell, one of eleven students to have been awarded an internship for 2016/2017.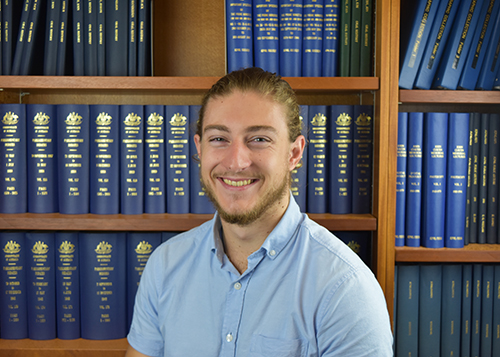 The HIVE summer internships are for a period of 10 weeks and provide participants with an opportunity to explore the use of visualisation technologies used in the HIVE lab, located in the John Curtin Gallery. During the internship Ben explored the application of 3D imagery to artefacts in the collection. He and HIVE staff also visited the Curtin Family home in Cottesloe to photograph the surroundings and internal features for use in a 3D immersive HIVE display.
For the major project component of the internship, Ben worked under the supervision of Associate Professor of History Bobbie Oliver, and Library Archivist Sally Laming, to create a timeline of the life of John Curtin using content and images from the JCPML collections. Ben used his skills as a student of history to research and write the narrative content of the timeline. The project required the digitisation of a large number of photographs and original documents from the collection, to a much higher resolution than usually required. This work was completed by our librarian, Debbie Williamson and provided images that displayed effectively on the large screen of the HIVE tile display.
The eleven students presented their projects at the Internship Showcase held in the HIVE on Monday 20 February, when JCPML staff were impressed with the final results of Ben's completed project titled John Curtin: Looking ever forward. Photos from the Showcase can be found on the HIVE Twitter.