Submitted by Kathryn Locke, Curtin University
Back in the early days of the #Covid-19 crisis, researchers at the Curtin University Centre for Culture and Technology started working on a Vision Australia research project to highlight the importance of smartphones for people with low vision or blindness. Conducted on the precipice of the coronarvirus pandemic, it captured a moment in time for people with low vision and blindness, when smartphones became even more vital for their participation in society.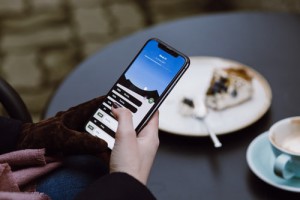 Image: freestocks/Unsplash
As Assistant Professor Ashley Shew and CCAT director Professor Katie Ellis have argued in Nature and the Critical Disability Studies blog in the past few weeks, the COVID-19 pandemic underlines and mainstreams the issues faced and limitations placed on people with disabilities. Whether it's issues around people's ability to work from home, endorsements of the value of flexible working hours or the essential requirement for fast internet at home, people are exploring issues that have been long-term concerns for people with disability.
Our research, initiated before the pandemic emerged in Australia, highlights the significance of smartphones for people with low vision or blindness, and flags a renewed emphasis on the importance of increasing access to, training in and effective use of this everyday technology.